---
Who is Jan van der Til? ​/ Exhibitions 2020-2023 / Publicity
---
Inhoudelijke en artistieke uitgangspunten / Essentiële woorden
---
In order not to become a houseplant I examin wild plants. Their survival strategies in adaptation, growth and distribution are an important source of inspiration for my work that, like weeds, grows between tiles, survives on infertile soil and invades beautiful landscaped gardens.'
Til, J. van der (2019). Garden and metaphor. Do I understand my garden? Groningen, The Netherlands: Rhizomebook.
---
Jan van der Til uses abstract processes from nature such as growth, self-regulation and species spreading to develop theoretical frameworks for his work with which he acts against one-dimensional thinking.
His work - always titled Book followed by a Roman serial number - is shown (inter)nationally in galleries and museums. In order to be less dependent on institutes, he increasingly uses the internet (no social media) to show and further develop his work. Sustainability and the use of raw materials as little as possible also play a role in this.
Since 2021, he has been investing a lot of time in the crypto space, delving into the world of DeFi and the ever-expanding possibilities of blockchain technology. In addition, he is a director and advisor in various local and national nature organizations and manages a museum collection of modernist industrial design.
---
Curriculum vitae / Concepts of work / Further reading
---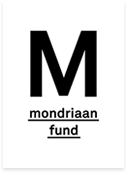 Jan van der Til is supported by the Mondriaan Fund.
The Mondriaan Fund is a publicly financed fund for visual art. It supports innovative projects and activities by visual artists. All grants are awarded with a view to promoting the production and presentation of relevant Dutch visual art in the Netherlands and abroad.
---
2021 - 2022 Corona-overbrugging kunstenaar Mondriaan Fund Amsterdam NL
---
2017 - 2021 Stipendium for Established Artists Mondriaan Fund Amsterdam NL
---
2012 - 2016 Basic Stipendium Mondriaan Fund Amsterdam NL
---
2008 - 2012 Basic Stipendium Fund BKVB Amsterdam NL
---
2002 - 2006 Basic Stipendium Fund BKVB Amsterdam NL
---
1998 - 2002 Starting Stipendium Fund BKVB Amsterdam NL
---